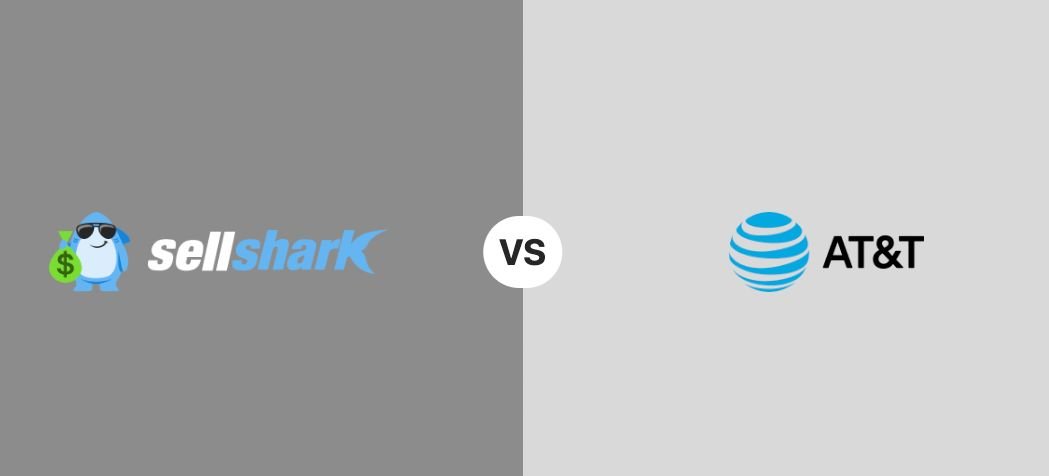 sellshark vs AT&T
It's good to hear that there are so many options for trading in cell phones for money. Cell phones typically cost over $1,000 these days and it's a shame that so many of them get thrown away or shoved in a box when they break or are replaced with a new model.
By the way – never throw away your old cell phone even if you think it's garbage! Electronic devices that are tossed into landfills only contribute to the global waste crisis and create toxic waste. Electronics are made up of mostly recycled materials, but they must be brought to the right recycling facilities. Trading in your old device will ensure that it is either resold, refurbished, or properly recycled.
VS
You have many options when it comes to trading in cell phones for money, and most of the time you can complete the process 100% online! For example, AT&T and SellShark both have cell phone trade-in programs that you can access online to receive an offer, print a shipping label, and get paid.
Here's everything you need to know about selling with sellshark vs AT&T Trade-In Program
Listing Fee
sellshark: None
AT&T: None
Payout Fee
sellshark: None
AT&T: None
Payout Speed
sellshark: Same day we receive your device.
AT&T: 1-3 billing cycles.
Instant Offer
sellshark: Yes.
AT&T: Yes.
What happens if something goes wrong?
sellshark: sellshark will return your device back for free if there is anything wrong with it or you no longer wish to trade it in.
AT&T: They will recycle your device or decrease your payout price. They will NOT return your device back to you if you change your mind.
Price Lock
sellshark: Your offer will stand at a locked price for 30-days.
AT&T: Your offer will stand at a locked price for 30-days.
Data Protection
sellshark: sellshark wipes your data and factory resets your phone.
AT&T: AT&T requires you to back up your data and factory reset your phone before sending it to them.
Who is responsible for shipping costs?
sellshark: sellshark.
AT&T: AT&T.
Safety
sellshark: Everything is done online. You will only speak to professional sellshark employees, and you will never be asked to meet anyone in person.
AT&T: Everything is done online. You will only speak to AT&T employees, and you will not meet anyone in person unless you choose to go to a physical AT&T store
Support
sellshark: sellshark support is available anytime you need help. Average response times are within a few minutes during business hours.
AT&T: AT&T support is difficult to get ahold of and responsive times vary. Many people find that they get bounced around to different departments without ever getting their issue resolved.
AT&T Trade-In Program
AT&T's Trade-In Program is pretty simple to use, and you don't have to be an AT&T customer in order to trade in your device. However, if you are trading in a phone that you used with another carrier you have to make sure your phone is paid off and all contractual obligations are met.
There are three simple steps to AT&T's Trade-In Program:
Learn your device's value by selecting your device model and answering a few questions. You will receive your quote once all questions have been answered.
Once you have signed in to your Facebook account, navigate to the left menu, and click Marketplace.
Send your device to AT&T using prepaid shipping supplies that they send to your door.
Receive an AT&T Device Offer (monthly bill credits) or a Promotional Card that can be used toward AT&T accessories or a bill payment.
As you can see from that last step, AT&T does not offer cash payments. Your only options are to use your device's trade-in value to pay off your bill or to buy more AT&T products. This can be frustrating if you want to spend your money elsewhere. After all – it is your money. You should be able to spend it how you please!
Selling on sellshark
If you want to sell a device (in any condition!) and get cash for it fast, sell with sellshark. We will take your device in any condition whether you have a cracked screen, an out-of-date iPod, or a malfunctioning PlayStation. You name it, we'll probably take it off your hands for a fair price. You can sell your device on SellShark in three easy steps:
1. Get an offer
Head to our website and find your device on the homepage. Answer a few questions about your device and we'll provide you with an offer immediately. (Don't see your device listed? Contact us for a custom quote.)
2. Print & ship
We will e-mail or snail mail you a pre-paid shipping label that you can use to track your package.
3. Get paid fast
As soon as we receive and inspect your device, we will deposit money directly into your account. If you prefer, we can also mail a check to your door.
SellShark gives you more options and more freedom when it comes to trading in your electronic devices. Start here to get cash for your old devices in just a few days!