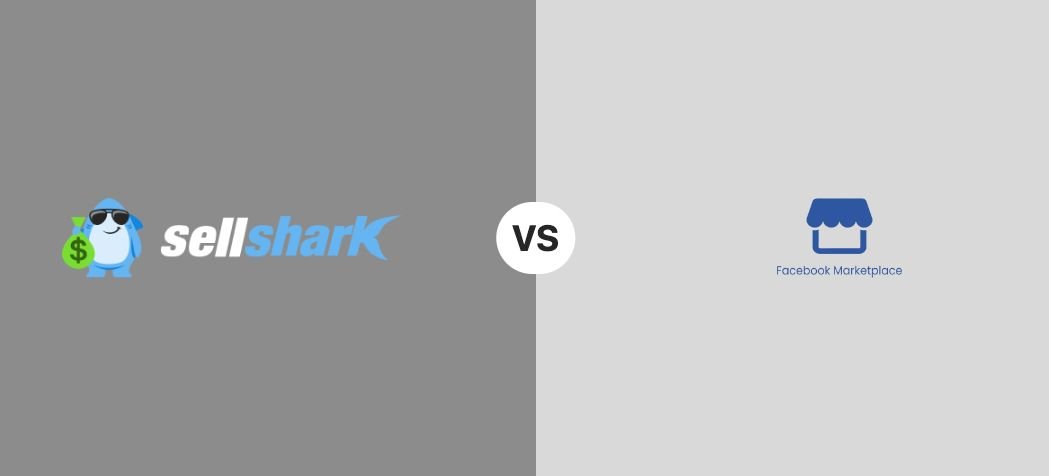 sellshark vs Facebook Marketplace
Are you ready to finally let go of all those old electronic devices you have lying around your house? We know how it goes: you upgrade your cell phones, laptops, and TVs and forget about the old ones, so they end up collecting dust in the corner.
Why not free up some storage space, save the environment from toxic waste (don't throw away your old electronics!), and make some money while you're at it? That's where SellShark comes in.
VS
However, we know that sellshark isn't your only option for selling electronic devices online. That's why we wanted to bring you this little guide for selling devices on sellshark vs. selling devices on Facebook Marketplace. We want you to have the best experience and get the best deal!
Here's everything you need to know about selling with sellshark vs Facebook Marketplace
Listing Fee
sellshark: None
FB Marketplace: None
Payout Fee
sellshark: None
FB Marketplace: None
Payout Speed
sellshark: Same day we receive your device.
FB Marketplace: Immediately after the item sells.
Instant Offer
sellshark: Yes.
FB Marketplace: You set the price of your device.
What happens if something goes wrong?
sellshark: sellshark will return your device back for free if there is anything wrong with it or you no longer wish to trade it in.
FB Marketplace: The buyer can leave a negative review, making it difficult for you to sell items in the future.
Price Lock
sellshark: Your offer will stand at a locked price for 30-days.
FB Marketplace: Not Available
Data Protection
sellshark: sellshark wipes your data and factory resets your phone.
FB Marketplace: You are responsible for your own data.
Who is responsible for shipping costs?
sellshark: sellshark.
FB Marketplace: Typically, there is no shipping involved. If you choose to sell your device to someone who is not local, you can ask them to pay the shipping fee.
Safety
sellshark: Everything is done online. You will only speak to professional sellshark employees, and you will never be asked to meet anyone in person.
FB Marketplace: Most Facebook Marketplace sales are made locally. This means that you will have to meet up with a stranger and trust that the transaction will go smoothly. It's important to be very careful when meeting up with people that you don't know. Be sure never to give out your personal information, meet in a public area that is well-lit with plenty of people, and bring someone with you if you can.
Support
sellshark: sellshark support is available anytime you need help. Average response times are within a few minutes during business hours.
FB Marketplace: Facebook does not offer customer support for its Marketplace users. Everything is done on your terms and at your own risk.
Facebook Marketplace can certainly be a great way to sell things online, but the process doesn't always go smoothly. One of the most difficult things about Facebook Marketplace is that all transactions are private, and Facebook doesn't do much of anything to protect buyers or sellers.
The good news is that you might be able to sell devices on Facebook Marketplace even if they are damaged or completely broken. You never know if there's someone out there that needs the parts inside your device for a project they're working on.
Selling on Facebook Marketplace
Facebook Marketplace has quickly become millions of Facebook user's go-to place to buy and sell new and used items. Most often, users look for items being sold nearby, so they don't have to pay or wait for their items to be shipped.
How to Create a Facebook Marketplace Listing
Listing and selling a device on Facebook Marketplace has many steps, and it can get quite complicated at times.
You must have a Facebook account to sell anything on Facebook Marketplace. If your Facebook account doesn't have enough validity (profile photo, basic information, a list of 'friends, etc.), potential buyers may find you untrustworthy.
Once you have signed in to your Facebook account, navigate to the left menu, and click Marketplace.
Click + Create New Listing, then click Item for Sale.
Click Add Photos and upload a few high-quality photos of your device. Make sure to show any damages or imperfections.
Describe the item(s) you are selling, and be sure to mention if it is broken or damaged in any way.
Set the price.
Click Next, and then Publish.
Once you have published your listing on Facebook marketplace, you will have to correspond with people interested in buying your device. Prepare for people to haggle the price and for a few spam messages. It isn't recommended to sell to accounts that don't have their basic information filled out because they are likely scammers or bots.
Selling on sellshark
If you want to sell a device (in any condition!) and get cash for it fast, sell with SellShark. We will take your device in any condition whether you have a cracked screen, an out-of-date iPod, or a malfunctioning PlayStation. You name it, we'll probably take it off your hands for a fair price. You can sell your device on SellShark in three easy steps:
1. Get an offer
Head to our website and find your device on the homepage. Answer a few questions about your device and we'll provide you with an offer immediately. (Don't see your device listed? Contact us for a custom quote.)
2. Print & ship
We will e-mail or snail mail you a pre-paid shipping label that you can use to track your package.
3. Get paid fast
As soon as we receive and inspect your device, we will deposit money directly into your account. If you prefer, we can also mail a check to your door.
sellshark gives you more options and more freedom when it comes to trading in your electronic devices. Start here to get cash for your old devices in just a few days!